LCI : Ladies Circle International
Le Ladies' Circle (LC) trouve ses origines en Angleterre, où le premier cercle a été créé à Bournemouth par les épouses des membres de la Table Ronde. En 1936, les premiers cercles formaient ensemble le « National Association of Ladies' Circle Great Britain & Ireland », abrégé en NALC GB&I. Les Ladies' Circle Sweden et Denmark ont été créés respectivement en 1947 et 1949.
Le 29 mai 1959 constitue une date importante dans l'histoire du LCI. C'est en effet à cette date que le Ladies' Circle International (LCI) a été créé lors de l'Annual General Meeting de Leiden (Pays Bas).
Molly Worley (Présidente) du LC GB&I, Jen Ulfvik (Vice-Présidente) du LC Sweden, Margery Coombe (Secrétaire) du LC GB&I et Søs Tarp (Trésorière) du LC Denmark ont été les fondatrices du LCI.
Le règlement est fondé sur l'égalité de toutes les associations ralliées dans une structure internationale. D'ici découlent les buts qui n'ont jamais été modifiés depuis lors.
Le Ladies' Circle International s'est développé dans de nouveaux pays et de nouveaux continents.
Le LC Finland a été créé en 1959, suivi par le LC Norway en 1961, le LC Belgium et le LC Hong Kong en 1967, les LC France et LC India en 1970, le LC Kenya en 1971 et le LC Germany en 1972.
Un changement important a été introduit lors de l'AGM de 1994 : le Ladies' Circle International est devenu entièrement indépendant de la Table Ronde. Depuis lors, le Ladies « Circle International est ouvert à toutes les femmes entre 18 et 45 ans.
En 2015, le LCI et la RTI ont signé un « Memorandum of Understanding » entre les deux associations afin d'encourager une relation plus proche tout en s'offrant de l'entraide. Deux pins ont été créés pour illustrer ce concept de « Side by Side » (SBS) et le bénéfice de leur vente est reversé aux projets de service internationaux des deux associations.
Notre logo
L'étoile LCI est notre logo et peut être utilisé par les pays. En ce moment, il n'y a pas d'obligations d'utiliser le logo dans leur logo national, mais c'est fortement conseillé pour une meilleure reconnaissance.
NOTRE DEVISE: 'Friendship & Service'
Friendship
Lorsqu'on devient membre du Ladies 'Circle (LC), on fait partie d'un club, dénommé Cercle. En général on participe aux réunions du Cercle local dans votre ville/village. On y fait des amis. Eventuellement on participe aux réunions régionales, nationales ou internationales, où on rencontre d'autres Cercleurs. De plus, on peut participer à l'assemblée générale annuelle (AGM) du pays et rencontrer encore plus de Cercleurs. On peut également de participer à l'AGM du LCI afin d'y rencontrer de nombreux Cercleurs internationaux.
On peut donc découvrir l'amitié à un niveau local, international et international. C'est une expérience extraordinaire de partager un lien avec les Cercleurs de différentes parties du monde, de différentes cultures, de formation différente et de tout de même partager un but commun et la langue de l'amitié. Via Ladies 'Circle on peut rencontrer des Ladies d'autres villes, pays et même continents, toutes avec le même état d'esprit que dans son propre cercle !
Service
Chaque Cercleur s'efforce de faire une différence pour les plus démunis de la société, en leur offrant un soutien par le biais de projets communautaires et récoltes de fonds pour les nécessiteux, au niveau local et national. Mondialement les Cercleurs soutiennent également le International Service Project (ISP) qui est mis en place pour deux ans. Parfois, nous ne pouvons apprécier les besoins qu'en voyant, sentant et touchant. Lorsque quelqu'un est curieux, il est facile de découvrir les besoins des autres, et comme on dit 'The Sky is the Limit'! La sensation que les Cercleurs éprouvent lorsqu'elles aident les autres est indescriptible - it is all about service!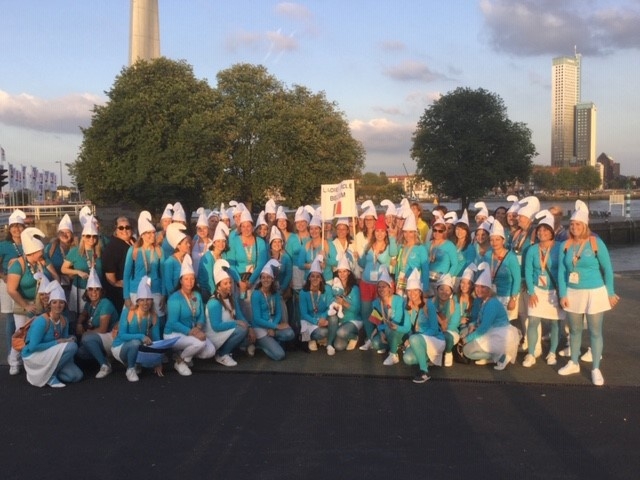 Airi Arrak - President - LC Estonia
Lisha Kufekisa - Vice-President - LC Zambia
Martina Santoro - Immediate Past President - LC Italy
Vicky Parker-George - Secretary - LC GB&I
Susi Wahl - Treasurer - LC Austria
Amandine Rinaldi - Media Manager - LC France
Mariska Verwoert - Weblady - LC The Netherlands
Christine Kleine-Tebbe - Middle European Regional Chair - LC Deutschland
Gillian Tengani - Africa Regional Chair - LC Botswana
Rukshica Perera - Asia Pacific Regional Chair - LC Sri Lanka
Aurélie Tuil - Mediterranean Regional Chair - LC France
Ida Peri - Nordic Regional Chair - LC Finland
Devise et logo de la présidente internationale